Dominic Umile
May 20
"Artful homage…Lovecraft's greatest legacy to comics"
At The Hooded Utilitarian, critic Ng Suat Tong writes about adapting H.P. Lovecraft stories for comics.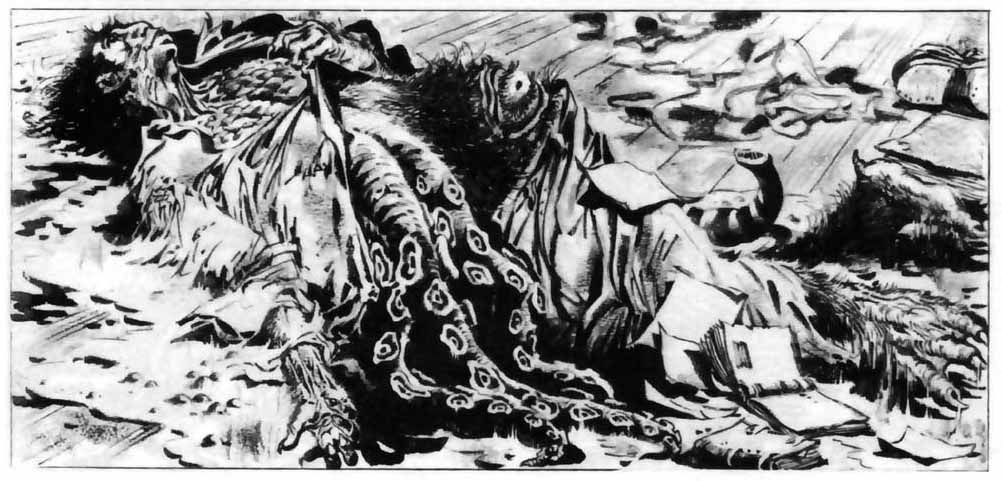 May 14
I'll come running back to you
Nate Powell's breathtaking sketches for a now-dormant Sam Cooke graphic biography (via Locust Moon Comics). Would love to see this come to fruition. Last year, I wrote for PopMatters about The Silence of Our Friends, a graphic novel about 1960s-era civil rights tensions that Powell worked on with Mark Long. 
Via Locust Moon Comics, Philadelphia
May 09
"Compelling interplay between Red-Handed's crafty and credulous throws shine on the work's more enduring moments, such as when Kindt lends unlikely tenderness to an exchange between an aging pickpocket and his mark on a crowded subway train, or to a heist man's recounting of his convictions to a new lover, set against a Hawaiian sunset. Each encounter is framed in extremes, so that micro scenes drawn from on-the-ground perspectives of townspeople swiping a store marquee's letters can render the cast comically pint-sized. Evocative closeups, on the other hand, signal for reader restraint. It's practically hypnotizing when Kindt brings someone to the fore in this novel."
May 06
New Orleans, French Market District. We visited a couple of weeks ago.
May 05
Brown, blue, and gold in graphic novel 'Babble'
Comics artist Bryan Coyle drafts recollection and current day settings in a new, visually striking graphic novel called Babble with the use of powerful aesthetic shifts. Read my PopMatters piece on this book.
"At night we and our neighbors showed up at one another's doors, drank beer and whiskey and tequila and talked about art and poetry and traded Harpers for Mother Jones and learned more about psychedelic music; we developed a fondness for Erik Satie together. We scoped out dollar-beer nights on Bedford and free gallery openings on Kent and Wythe or in West Chelsea." — This was Williamsburg. Tom McGeveran, Capital New York
Apr 22
Poor Charles Dexter Ward
Action-packed comics don't often owe to depictions of characters sifting through moldy correspondence, deciphering archaic language, and unlocking mantras typically reserved for cellars or graveyards. Read my piece on H.P. Lovecraft's/Ian Culbard's The Case of Charles Dexter Ward for The Comics Journal.
Apr 14
While different creators have added new layers of mythology to the character, the best writers know that Swamp Thing is driven by one fundamental principle: Nature is scary. The world of plants is alien to mankind, and in that unknown there is plenty of potential for fear. 
The AV Club's Oliver Sava on Swamp Thing.
Françoise Hardy during a promotional visit to Italy, 1963.
(Source: vinylespassion)
Apr 11
Deep into Warren Ellis's Global Frequency at the moment. Tense, twisted…a solid subway read. Johanna Draper Carlson calls this "the quintessential Warren Ellis series" at Comics Worth Reading. Critic Julian Darius is writing a lot about the veteran comics writer and novelist at Sequart Research & Literacy organization — here is a piece on Ellis's superhero work for publisher Avatar Press. Publishers Weekly reports that Ellis has teamed up with Marvel to launch a line of original graphic novels beginning in October of 2013.